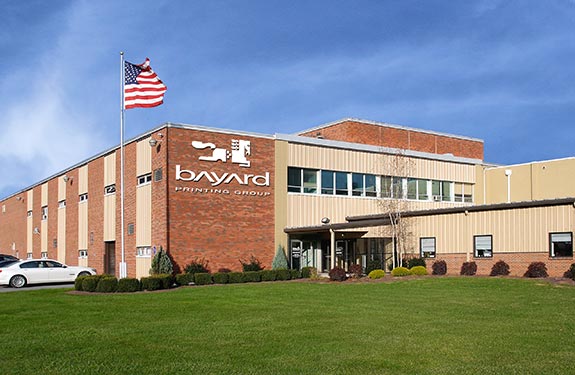 Commercial Printing & Direct Mail Processing
The Bayard Printing Group is strategically located within a 400 mile radius of more than 40% of the nation's population. This includes the major US markets of Philadelphia ( 113 miles ), New York City ( 125 miles ), NJ Coastal Cities ( 175 miles ), Washington DC ( 226 miles ), Boston ( 310 miles ) as well as the Canadian business centers of Toronto ( 350 miles ) and Montreal ( 402 miles ).
In addition to our in-house US Postal Service substation Bayard's commercial printing and distribution centers are served by all major shippers and a close proximity to the major northeast U.S. corridors of Interstates 80, 81 and 476 as well as a newly remodeled International Airport.

Commercial Printing & Direct Mail Processing
The Bayard Printing Group is a product of the merger of Webb Communications of Williamsport PA, Unigraphic Color Corporation of Plymouth PA and Reed Hann Litho, also of Williamsport PA. Bayard is a regional supplier of publications, periodicals and printing for Northeast and Mid-Atlantic region, New York, New Jersey, New England, Maryland and Washington DC. from multiple locations in Pennsylvania.
Bayard produces quality commercial printing by way of high volume heat-set web printing, mid to high volume sheetfed offset printing and short run on-demand digital printing.
Bayard is also direct mail and fulfillment center, processing over 65,000,000 (65 million ) pieces of mail a year through our in-house US Postal Service Substation. Bayard has the capabilities to get both high volume and short run publications, periodicals and printing out fast, efficiently, accurately and economically. So whether you need to saturate entire regions of the country or micro-target smaller areas Bayard has the solution.
Bayard also offers extensive in-house private label web-to-print management and distribution solutions and integrated print / web marketing. Bayard's online services focus around making print easier, faster and more economical and integrating print / web impact for clients. Our e-publishing services put your publication or periodical online as well as in print for the most impact and reach possible.
And, because every project has a beginning and an end, Bayard also offers complete design, layout and prepress facilities as well as extensive bindery and finishing facilities.
Bayard is, and always will be, committed to growth, innovation, and "over the top" customer service. Call us, you have a friend in the business - the Bayard Printing Group, talk to us soon. 800-432-9738 or click Contact Us.
NEWS: Bayard adds to it's stable of commercial presses.
Bayard has completed installation of a "Komori LITHRONE LS840P+C" Eight Color Perfecter Press The Komori LS840P+C is a strategic addition to Bayard's stable of Web, Sheetfed and Digital presses that will add the high speed large run capability to print Magazines, Catalogs, Supplements and Tabloids on Gloss Paper.
Customized press design for unique applications in today's market sets Bayard Printing Group apart from the rest. Bayard's Komori focuses on economic flexibility. Multicolor straight printing, perfecting, process work, Aqueous Coating and hybrid ink jobs are all accommodated with no compromise of performance or print quality. Bayard's complete solution for the multi-segment age now includes the Komori LS840P+C. more...

Call us for help and advice on your next project, we're here to help.
Call: 800-432-8738 Online: Contact Form