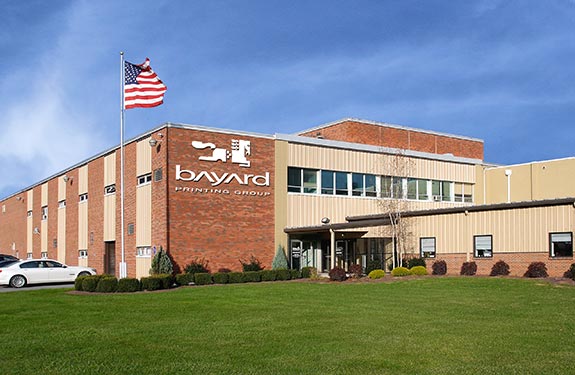 Direct Mail & Fulfillment
The Bayard Printing Group is strategically located within a 400 mile radius of more than 40% of the nation's population. This includes the major US markets of Philadelphia ( 113 miles ), New York City ( 125 miles ), NJ Coastal Cities ( 175 miles ), Washington DC ( 226 miles ), Boston ( 310 miles ) as well as the Canadian business centers of Toronto ( 350 miles ) and Montreal ( 402 miles ).
In addition to our in-house US Postal Service substation Bayard's commercial printing and distribution centers are served by all major shippers and a close proximity to the major northeast U.S. corridors of Interstates 80, 81 and 476 as well as a newly remodeled International Airport.

Direct Mail and Fulfillment Services
In addition to our print capabilities, Bayard also offers direct mail services. With our technology, We'll take care of everything from start to finish. Our expert staff has the experience necessary to assist you with all of the details to get your job printed, addressed, and mailed to your customers. We can even print your postage permit, which means even less work for you and your staff. Utilizing our direct mail services has proven to be a cost-effective and time-efficient option for many businesses.
Why Use Bayard Direct Mail Services?
• Time Savings: Enjoy the convenience of Bayards one-stop-shop direct mail services. When you work with us, there's no need to travel back and forth from the printer to the mail service.
• Cost Savings: There are no extra shipping charges from the printer to the mail service.
• Easy to Use: The same team of people who handle your printing will track your job all the way to the post office.
• Quality: Take advantage of the same level of quality that you have come to expect from Bayard Printing.
Direct Mail Features:
• High-Speed Ink Jet Technology (Print addresses on a variety of stocks including coated, UV-coated, and synthetics)
• Automatically Placed Closure Tabs (on / off line 1, 2 and 3 tab capability)
• Postal Presorting: First Class, Periodicals, Standard A & CASS Certification Address Software
• Bar Coding for Automation
• Personalized Messages
• Data Conversion
• Mailing Lists
• National Change of Address (NCOA) Processing

Call us for help and advise on your next project, we're here to help.
Call: 800-432-8738 Online: Contact Form