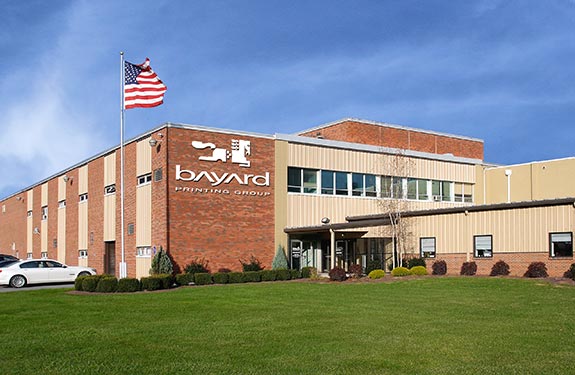 Corporate Stores
The Bayard Printing Group is strategically located within a 400 mile radius of more than 40% of the nation's population. This includes the major US markets of Philadelphia ( 113 miles ), New York City ( 125 miles ), NJ Coastal Cities ( 175 miles ), Washington DC ( 226 miles ), Boston ( 310 miles ) as well as the Canadian business centers of Toronto ( 350 miles ) and Montreal ( 402 miles ).
In addition to our in-house US Postal Service substation Bayard's commercial printing and distribution centers are served by all major shippers and a close proximity to the major northeast U.S. corridors of Interstates 80, 81 and 476 as well as a newly remodeled International Airport.

Web-to-Print ( W2P ) Order, Management, Distribution
A Web-to-Print ( W2P ) site from Bayard is a private, custom website that allows authorized users of the company for which the site was created, to customize, proof, order, manage and distribue print material over the web via standard desktop, laptop or mobile web browser.
The content is the site is the parent company's existing print materials modified and setup online to allow images and artwork to be changed, copy to be revised, proofs to be approved and orders to be placed.
Bayard designs and builds it's own custom user friendly Web-to-Print solutions for business of all sizes. A custom Web-to-Print solution can be created to meet almost any need of any constituent group.
Authorized In-house departmental personnel can customize and order their own collateral, stationary and office forms saving time and money.

Collateral marketing material can be customized and kept fresh, by authorized in-house personnel, to quickly target individual markets or even individual clients due to very low volume ordering requirements ( as low as 12 in many cases ). Make as many changes as you want with no additional charges or design fees. All you pay for is the print material you order.

Authorized distributers, franchise owners, sales associates can log-in from anywhere in the world and customize, proof, order and pay for marketing material. The parent corporation gets to set the limits of customization and can individually approve each order before printing
All this means that even when out of house personnel and third parties such as distributors and franchise owners are involved, the parent corporation keeps control over their brand, knows who is using their materials, controls how it was customized and knows that it has been inspected and approved before the order is ever printed.
Bayard Web-to-Print sites can be individually branded and the ordering, billing and distribution can be tailored to satisfy specific needs. Access to a Corporate Print Store is alway password protected and limited to users approved by the company for which the site was created.
Why a custom Web-to-Print solution may be right for your company?
Convenience: Place an order from any computer or mobile device with internet service.

Speed: See a PDF soft proof on screen as fast as the click of a mouse or tap on a screen.

Accessibility: Order at 10 AM or 10 PM, a private Web-to-Print site is open 24/7.

Cost: Edit and customize print material over and over at no additional cost. Your in-house people can customize stationary, forms and marketing collateral. And, if you have a distribution or franchise network, they will be able to customize, order and pay for the marketing material you offer. Their is no additional design or layout charges, no additional personnel needed to manage the process, and your print material stays fresh, seasonal, interesting and relevant to any market or client to be solicited.

Distribution: A corporate store can be an excellent way to effortlessly distribute your marketing materials to distributors, franchisees and sales associates. Everything is shipped directly to the user placing the order.

Management: Since all users,product customization, orders, shipments and payments are documented and controlled by the parent company, managing your brand and marketing collateral is effortless.
FAQs
Who makes a good candidate for a Web-to-Print site?
While it may seem that only large print buyers would be good candidates for corporate stores, this is not necessarily true. Bayard can create a site for anyone, even if you have only a few print products. Think of it as a Micro Store. So actually, anyone that wants the ability to customize, edit and manage their own print material and the convenience of a private corporate print store can now have it all from Bayard
How much does it cost?
Pricing is on a sliding scale, the more you print the less the service cost. And it takes less printing than you may think to have a site at no cost to you. Please call for more information.
For more information or to setup a private demo and webinar please call Jason Aben at 800-432-8738