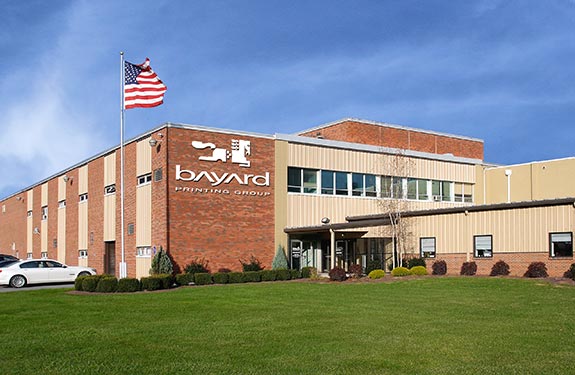 Bindery & Finishing Services
The Bayard Printing Group is strategically located within a 400 mile radius of more than 40% of the nation's population. This includes the major US markets of Philadelphia ( 113 miles ), New York City ( 125 miles ), NJ Coastal Cities ( 175 miles ), Washington DC ( 226 miles ), Boston ( 310 miles ) as well as the Canadian business centers of Toronto ( 350 miles ) and Montreal ( 402 miles ).
In addition to our in-house US Postal Service substation Bayard's commercial printing and distribution centers are served by all major shippers and a close proximity to the major northeast U.S. corridors of Interstates 80, 81 and 476 as well as a newly remodeled International Airport.

Bindery & Finishing Services
The presses have stopped, the ink is dry, but the lights arena't out because the job is not done. That's why Bayard maintains an extensive in-house finishing and bindery department.
Our staff of experienced professionals are committed to providing the same quality and care in the last phase of your project that we provide at every other step along the way. Bayard knows that high quality bindings, accurate trims and crisp folds are just as important to the success of your project as quality printing.
As a one source solution to your printing needs, Bayard can maintain control over your entire project keeping it on schedule and on budget.
We offer the full range of finishing services. If you don't see something you need, call us

Complete In-House Bindery
Pre and Post Press Cutting
Folding, Scoring and Soft Folding
Stitching 4" x 3.25" to 17.5" x 12"
Multiple Signatures to 5/8" Thick
Die and High-Die Cutting
Hand Services Available
Shipping Via All Carriers
Fleet Delivery Services

Call us for help and advise on your next project, we're here to help.
Call: 800-432-8738 Online: Contact Form