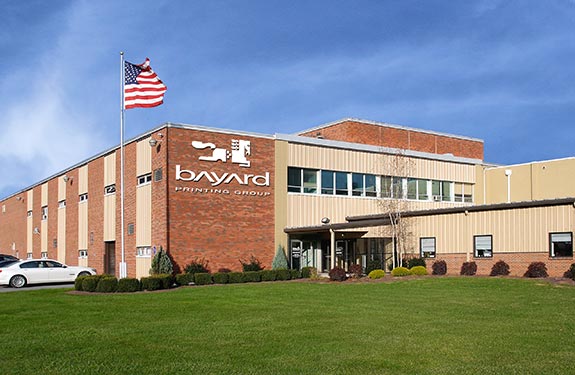 Sheetfed Printing
The Bayard Printing Group is strategically located within a 400 mile radius of more than 40% of the nation's population. This includes the major US markets of Philadelphia ( 113 miles ), New York City ( 125 miles ), NJ Coastal Cities ( 175 miles ), Washington DC ( 226 miles ), Boston ( 310 miles ) as well as the Canadian business centers of Toronto ( 350 miles ) and Montreal ( 402 miles ).
In addition to our in-house US Postal Service substation Bayard's commercial printing and distribution centers are served by all major shippers and a close proximity to the major northeast U.S. corridors of Interstates 80, 81 and 476 as well as a newly remodeled International Airport.

Sheetfed Printing
Commercial Sheetfed Printing has what it takes to make your message stand out in today's competitive market place.
Bayard's High Speed Sheetfed Printing offers the broadest range of attention getting media and printing options available in offset printing. These include a wide assortment of paper sizes, types and textures, spot colors for exact color matching or dazzling effects, and coatings for appearance and durability. Also available are die cuts for indexing and unique eye catching shapes, embossing for a multi dimensional look, and custom folds, tabs and sizes for ease of use.
The dedicated press runs allow for individualized attention throughout the printing process. This translates to high level quality control with results you, your clients and competition will notice.
When you want solid quality you can see and everyone will notice Bayard is the right choice for your project.

Komori LITHRONE LS840P+C Eight Color Perfecter Press
Sheet size to 28" x 40"
Dedicated Press Runs
Highest Offset Quality
Superior Color Reproduction
Wide Range of Print and Media Options.

Call us for help and advise on your next project, we're here to help.
Call: 800-432-8738 Online: Contact Form