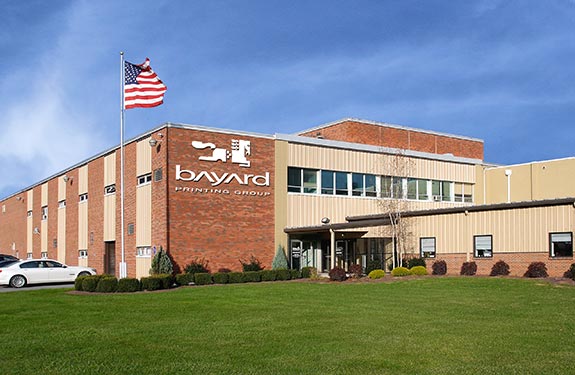 Industrial Screens
The Bayard Printing Group is strategically located within a 400 mile radius of more than 40% of the nation's population. This includes the major US markets of Philadelphia ( 113 miles ), New York City ( 125 miles ), NJ Coastal Cities ( 175 miles ), Washington DC ( 226 miles ), Boston ( 310 miles ) as well as the Canadian business centers of Toronto ( 350 miles ) and Montreal ( 402 miles ).
In addition to our in-house US Postal Service substation Bayard's commercial printing and distribution centers are served by all major shippers and a close proximity to the major northeast U.S. corridors of Interstates 80, 81 and 476 as well as a newly remodeled International Airport.

Industrial Screens and Screen Printing
Bayard has extensive experience in industrial screen printing. Experience that allows us to can exceed the most demanding industrial screen printing specifications. Our state-of-the-art technology provide our global customer base with the highest quality products available anywhere.

Why choose Bayard Industrial Screen Printing?
• We are the patent holder on the Dia-Print self tensioning frames and we are the exclusive manufacturer and worldwide distributor.
• We offer a complete line of screen printing services from film generation to screen manufacturing and the best fine quality screen printing that will exceed your expectations every time!
• We use stretch-and-glue and self-tensioning frames using both monofilament polyester with a mesh count of 16 to 390 UV and stainless steel with all of the available 200-400 mesh counts on any frame up to 9' x 15' using Diazo Emulsions.
• Our staff is comprised of highly skilled and experienced print professionals.
When it comes to your screen printing, we can help you in just about any capacity. We can help you with your project from concept to completion, or in part by drawing your art, making your films, or building your screen or squeegee. Our goal is to deliver the best possible screen printed product.
In addition to state-of-the-art screen printing capabilities, we have a full-service prepress department, sheet feed offset presses, in-house die cutting and foil stamping to meet all of your screen and conventional printing requirements.
For more information please call: 800-432-8738 or use or online eHelp form.