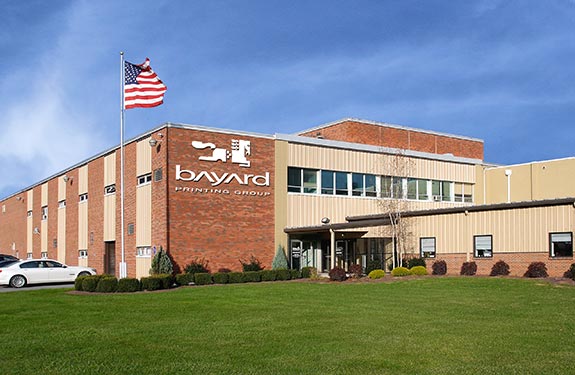 Digital Printing
The Bayard Printing Group is strategically located within a 400 mile radius of more than 40% of the nation's population. This includes the major US markets of Philadelphia ( 113 miles ), New York City ( 125 miles ), NJ Coastal Cities ( 175 miles ), Washington DC ( 226 miles ), Boston ( 310 miles ) as well as the Canadian business centers of Toronto ( 350 miles ) and Montreal ( 402 miles ).
In addition to our in-house US Postal Service substation Bayard's commercial printing and distribution centers are served by all major shippers and a close proximity to the major northeast U.S. corridors of Interstates 80, 81 and 476 as well as a newly remodeled International Airport.

Digital Printing
Digital Printing comes of age at Bayard with the Kodak NexPress Digital Production Press. It's one of the most advanced digital press on the market. To this, Bayard has added its own special touch - years of digital printing and prepress experience and a critical eye to make sure the press performs like no other. That's why we say "it's not just digital - it's Bayard digital printing" and we work to get better everyday.

Why digital? First, you can order exactly what you need from a handful to a truck full, you decide the quantity. Next, meeting that tight deadline now becomes a reality. Because of press speed, plateless printing technology and proof-on-press workflow, jobs can be delivered in a time frame that would be impossible without digital technology.
So what does this mean to you, the print buyer - it means you can impress your clients with professionally printed material for your next presentation or produce short notice market tuned mailers, handouts or information packets to take advantage of a new business opportunity. In short, it means there is no reason not to have high quality commercially printed material to meet every opportunity.

Kodak NexPress Digital Production Press
Sheet size to 14" x 26" Largest on the market
Dedicated Press Runs
Highest Digital Quality
Wide Gamut Color for Brilliant Reproduction
Wide Range of Print and Media Options
Short Run or Long Run -Order just what you need and want

For more information on our extensive digital services and committment to the future please click more...
Call: 800-432-8738 Online: Contact Form