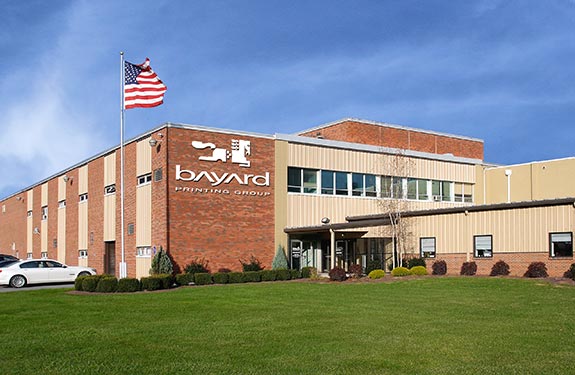 Heatset Web
The Bayard Printing Group is strategically located within a 400 mile radius of more than 40% of the nation's population. This includes the major US markets of Philadelphia ( 113 miles ), New York City ( 125 miles ), NJ Coastal Cities ( 175 miles ), Washington DC ( 226 miles ), Boston ( 310 miles ) as well as the Canadian business centers of Toronto ( 350 miles ) and Montreal ( 402 miles ).
In addition to our in-house US Postal Service substation Bayard's commercial printing and distribution centers are served by all major shippers and a close proximity to the major northeast U.S. corridors of Interstates 80, 81 and 476 as well as a newly remodeled International Airport.

High Speed Heatset Web Printing
For medium to high volume work, Bayard offers the efficiency and quality of high speed heat-set web printing.
Web presses print on continuous rolls of paper rather than printing on individual sheets of paper as a sheetfed press does. This allows for a much higher printing speed than can be achieved on a sheetfed press. This speed means that the efficiency of web presses is only realized on medium to long run publications, periodicals and printing
The consistent, high-quality of our heat set web is ideal for printing publications such as newspapers, Periodical, catalogs, and any high volume print project.
Call us for help and advise on your next project, we're here to help.
Call: 800-432-8738 Online: Contact Form