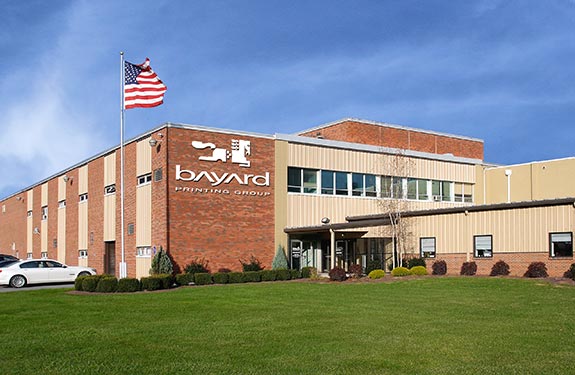 Komori LS840P + C
The Bayard Printing Group is strategically located within a 400 mile radius of more than 40% of the nation's population. This includes the major US markets of Philadelphia ( 113 miles ), New York City ( 125 miles ), NJ Coastal Cities ( 175 miles ), Washington DC ( 226 miles ), Boston ( 310 miles ) as well as the Canadian business centers of Toronto ( 350 miles ) and Montreal ( 402 miles ).
In addition to our in-house US Postal Service substation Bayard's commercial printing and distribution centers are served by all major shippers and a close proximity to the major northeast U.S. corridors of Interstates 80, 81 and 476 as well as a newly remodeled International Airport..

The Latest addition to the Bayard Stable of Presses
Bayard Printing Group completes installation of a "Komori LITHRONE LS840P+C" Eight Color Perfecter Press that will add capacity for Magazines, Catalogs, Supplements and Tabloids on Gloss Paper.
An Increase in Business from Existing Customers and a demand by Prospective NEW Business created the opportunity and justification for the substantial capital investment.
The Komori press line represents added capacity to Bayard's long list of state of the art press equipment. Customized press design for unique applications in today's market set Bayard Printing Group apart from the rest. Today's diversifying market needs demand performance and versatility that let the press play two or even three roles. Bayard's Komori laser focus on flexibility means the "Lithrone LS840P+C" can easily handle two or more roles and capitalize on emerging market potentials everywhere. Multicolor straight printing, perfecting, process work, Aqueous Coating and hybrid ink jobs all accommodated with no compromise of performance or print quality. Bayard's complete solution for the multi-segment age: Bayard's Komori LS840P+C.
The Komori view of the printing industry's future is not limited to just pursing the essentials of productivity, operating ease, and advanced technologies. Bayard Printing Group and Komori is intent on pushing the envelope of printing by laying open the enormous potentials that lie ahead. The Lithrone LS840P+C expresses Bayard's utter confidence in the promise of printing's future.
For more information on what the Komori LS840P+C can mean to your printing needs call or email the Bayard Printing Group for more information specific to your needs.
Monday - Friday
8 AM - 5 PM Eastern Time
Call Toll Free: 800-432-8738